TFL Stars Gold award
Our school has been awarded the Gold level accreditation from Transport for London this term (February 2020). This is in recognition of achievements in active and safer travel initiatives. Here are our Junior Road Safety Officers with the award!
The Reading Bus
On August 6th Stagecoach bus company along with Sovereign recovery company were able to deliver Hook Lane Primary School's very own double decker bus! It has been a long road getting to this point and we still have lots and lots to do to make the bus into a magical and exciting place for the children to enjoy reading. So many thanks to all the people who have helped us to get this far: to Mr Czyz for organising the planning permission, concrete foundations and electricity supply; to the PTA who have tirelessly raised funds and to Phil Wilson, an ex-Hook Lane parent and Stagecoach bus driver, for helping us to secure the bus. Thanks of course to all of you for attending PTA events and contributing towards this project.

We have heard that we came second in the Tesco 'Bags of Help' scheme, winning £2000 towards the renovation work!
European Day of Languages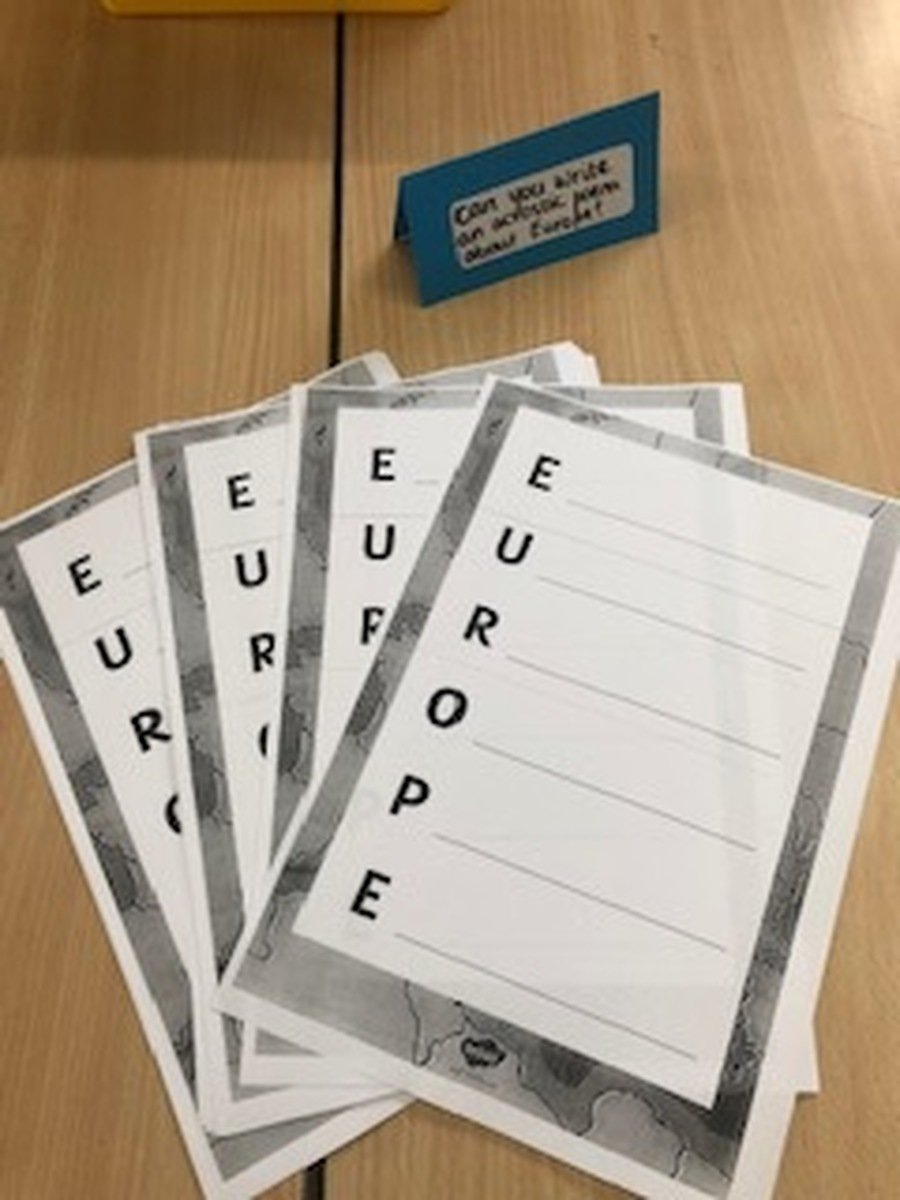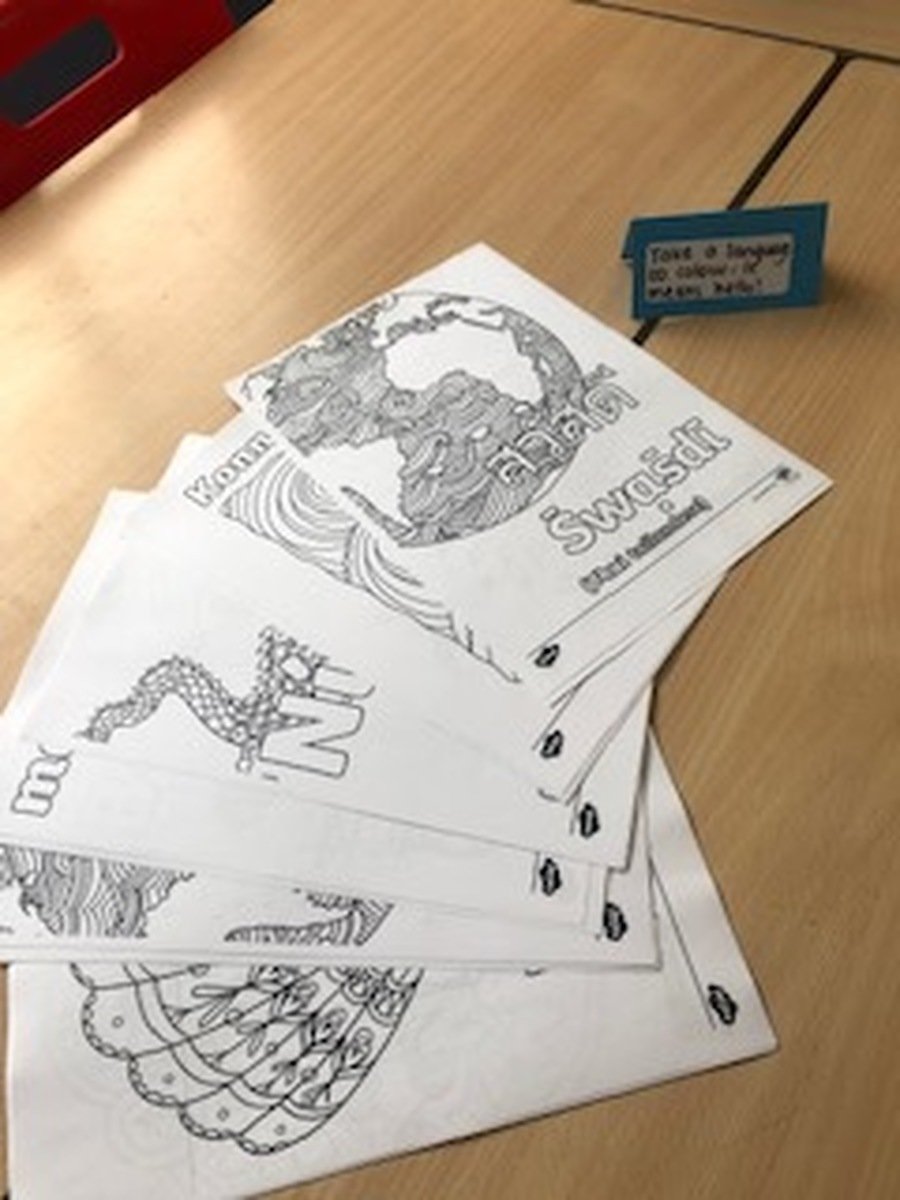 Every year on 26th September, European Day of Languages is celebrated across many different countries. Not wanting to miss out on the fun, we started the week off with an assembly about the languages we have in our school and how we might join in on the celebrations. We played some games, guessing which celebrities can speak other languages and even which teachers in our school can speak or understand another language. Most of our children knew exactly which teachers were bilingual, but struggled to guess which language one of our TA's knew, especially when they were told this particular language doesn't involve any speaking out loud… Can you guess what it might be?
On Thursday, any children who could speak or understand a language other than English wore a badge that said their language. This meant any children interested in learning that language could approach them for help or any child who spoke the same language could try and have a conversation. It was a great success and it was lovely to see lots of new friendships forming!
We have some very exciting news - Mr Barnes is getting married in the half-term holiday! We thought it was only fair that the children should get to see what he will look like on his big day, so the very talented Ms Glover made him this smart wedding outfit. We wish him all the very best for his wedding day and married life.
Year 5 Football Tournament
Our Year 5 football team took part in the Bexley, Year 5 football tournament, at the Marathon Ground in Shooters Hill, on Saturday the 11th May. Our team played against many other schools. We did really well reaching the quarter finals. Despite the rain everyone had an amazing morning.
Skip2BFit Workshops
On Tuesday 7th May we had a visit from Skip2BFit. Each class took part in a skipping workshop in which we had two minutes to do as many skips as possible and then try to be a 'chicken nugget' and beat our previous score. The top skipper from each year was given a certificate and our top teacher, Miss Carcavella and top pupil, Finlay, had a skip off in front of the rest of the school! Excellent effort by all!
Bexley Festival of Music 2019
On Tuesday 26th March, 31 Hook Lane pupils took part in a concert showcasing all the music taking place in schools across Bexley. The children spent the day in rehearsals, followed by some relaxation time out on the Southbank and then performed beautifully at the Royal Festival Hall. We are very proud of them, not only for how well they performed in the choir, orchestra and playing their ukuleles, but also because they were the best behaved school there. Well done everybody!
Hook Lane awarded the TFL Gold STARS award.
Hook Lane Primary School received the Gold Level Accreditation in recognition of achievements in active and safer travel initiatives on 26th November. Isabel Millard and Lenny West, two of our junior road safety officers, went to the Kia Oval in Kennington to receive our certificate and Gold STARS badge. They also took part in workshops to give them ideas about how we can improve road safety around the school.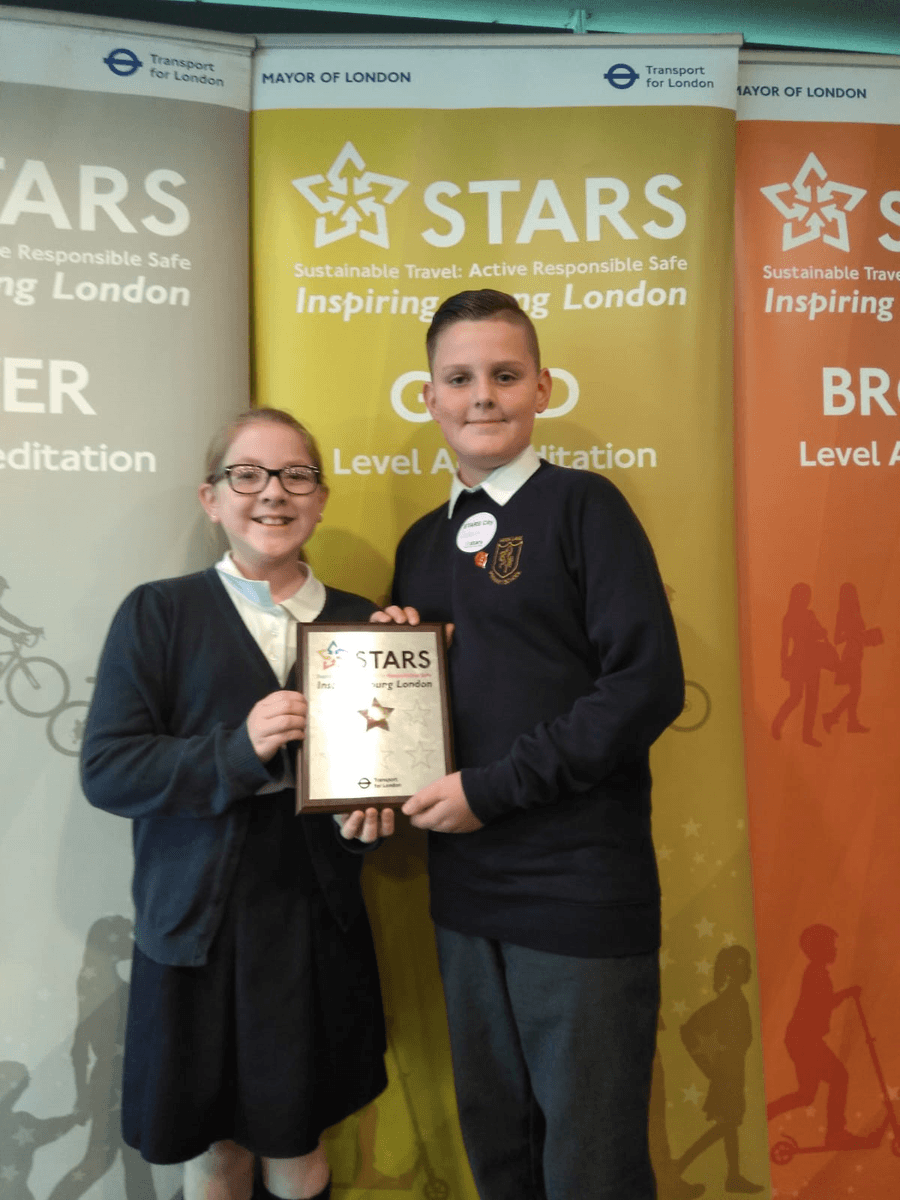 Hook Lane Primary Football Teams News
Our year 6 football team has started the year really well again. We have won all our matches so far and are now in the third round of the Kevin McCarthy cup. Our next match is against Old Bexley Primary School. We recently held trials for our girls team who will be taking part in a tournament starting in February 2019.
Our New Football strip
Here is a picture of our Year 5/6 football team in their new football strip which was provided by Premier League Primary Stars. We would like to say a big thank you to them for providing the strip free of charge.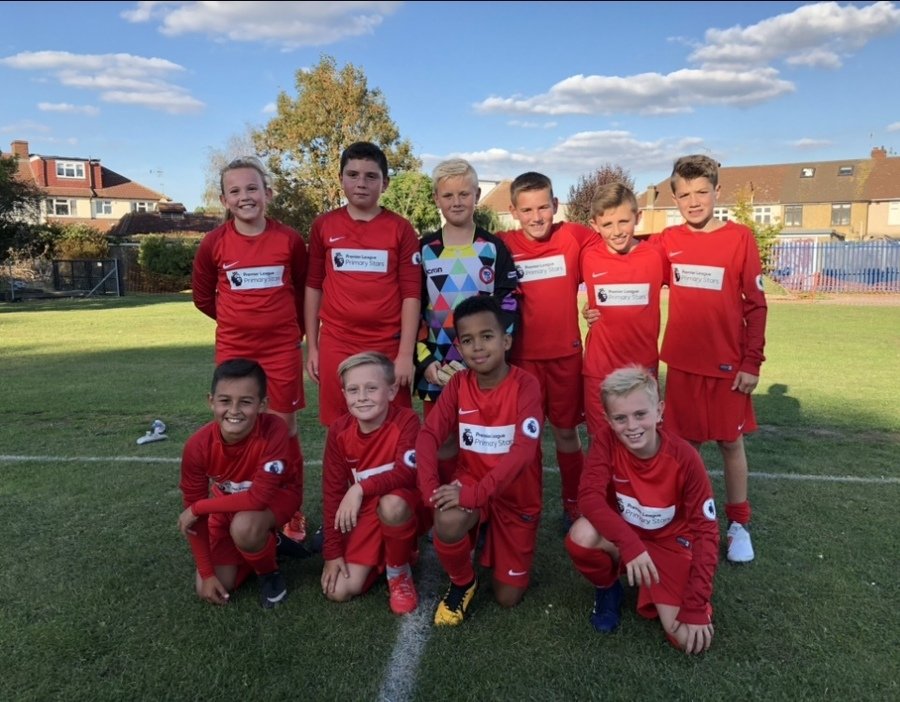 Junior Mathematical Olympiad
A little while ago we mentioned that Andy in Year 6 had got through to the Junior Mathematical Olympiad. He sat a very complex 2 hour long paper just for fun! We are very pleased and proud to be able to say that he achieved a Merit on this challenge. Here he is with his certificate.
Well done Andy!!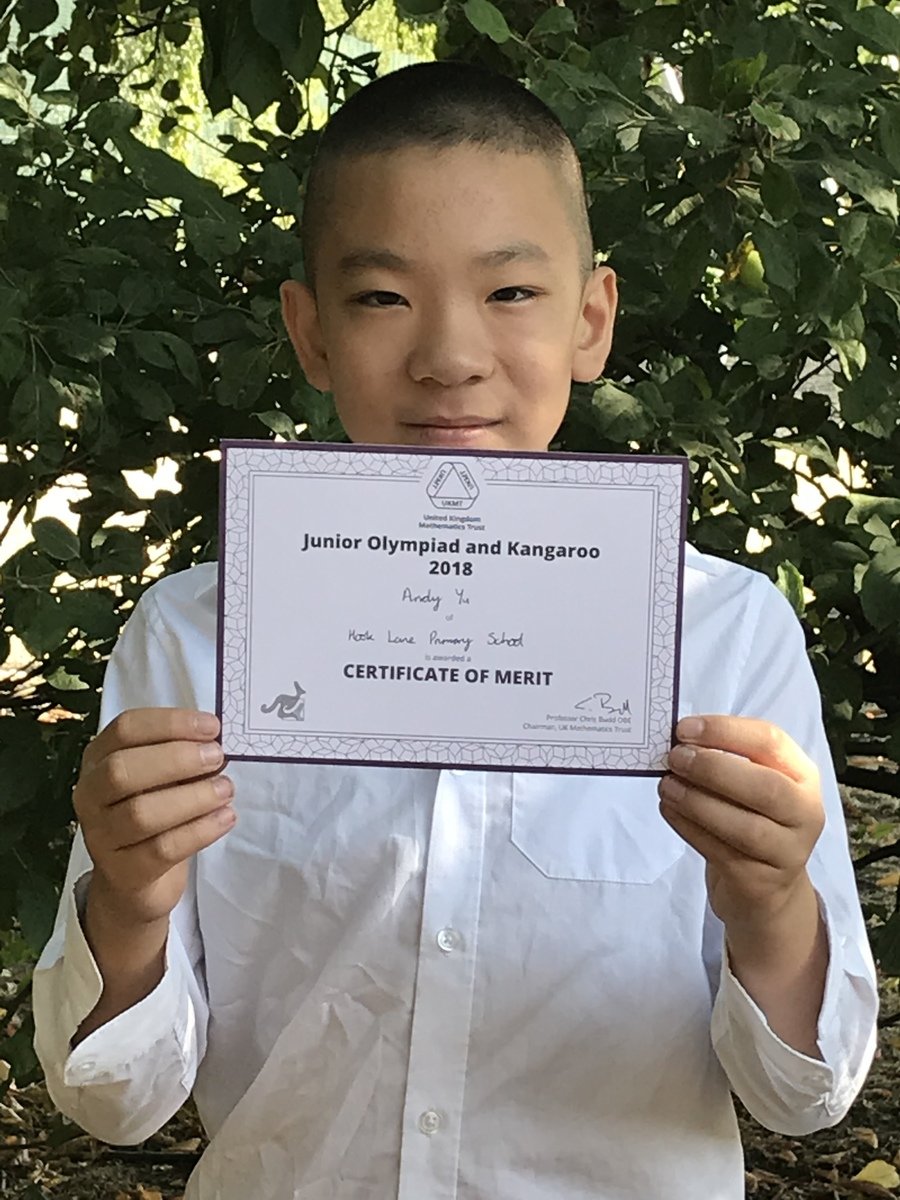 SEND Panathlon finals at the Copperbox stadium
On the 4th July pupils from our provision attended the London Panathlon finals competition. Our team had won our heat and was selected to represent Bexley Borough to go to the Copperbox stadium at the Olympic park. The children took part in lots of fun activities and thoroughly enjoyed the experience.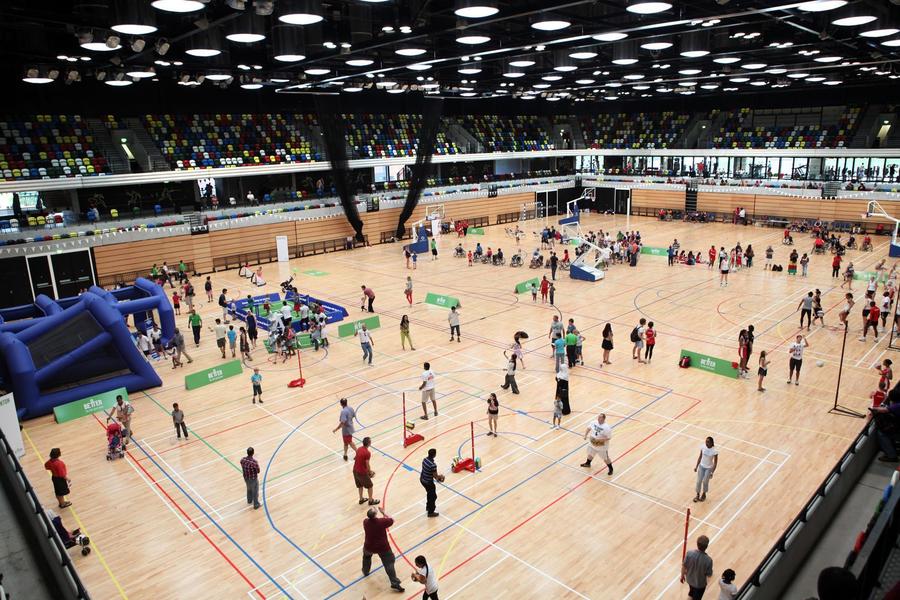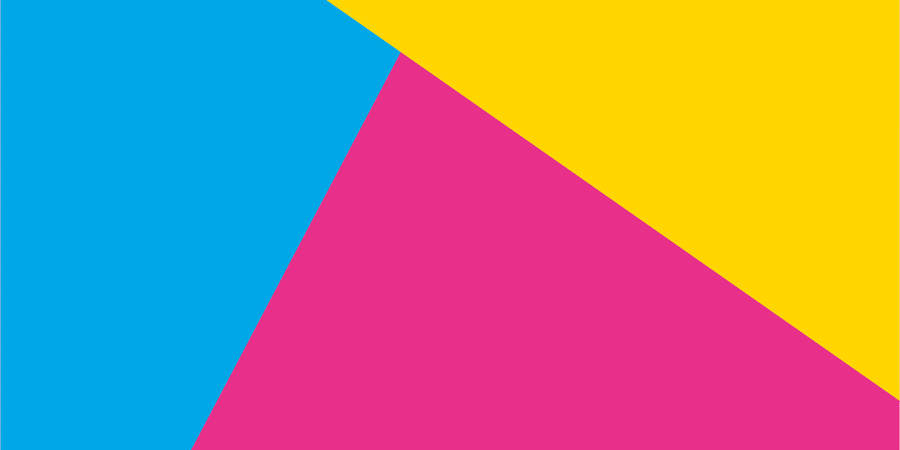 Gold for Hook Lane
We are delighted to announce that, Hook Lane Primary School, have achieved the School Games Gold Mark Award for the 2017/18 academic year.
The School Games Mark is a Government led award scheme launched in 2012, facilitated by the Youth Sport Trust to reward schools for their commitment to the development of competition across their school and into the community, and we are delighted to have been recognised for our success.
Our sporting achievements this year include:
Winning our heat and finalist of the Bexley Kwik Cricket Competition
Bexley Sports Hall Athletics Competition
Winner of Bexley Under 10s football competition
Change4 Life Festival entry
Winner of the Bexley Panathlon Competition
Representing Bexley at the Finals of the SEND Panathlon competition at the Copperbox stadium
Girls year 5/6 football tournament entry
Finalists in the Kevin McCarthy cup year 5/6 football competition
intra school games competition
Winner of the Bexley Good Teamwork in sports award
With a total of over 90 young people competing in local inter-school competitions this year, we are extremely proud of our pupils for their dedication to all aspects of school sport, including those young volunteers, leaders and officials who made our competitions possible.
As part of our application, we were asked to fulfil criteria in the areas of participation, competition, workforce and clubs, and we are pleased that the hard work of everyone at our school has been rewarded this year.
A special thanks to: the parents and carers who regularly support our school at sporting events. We are consistently the best supported school whenever we compete!
Safer Parking Around our School
On 2nd July our Junior Road Safety Officers took part in a safer parking initiative outside our school. The aim was to promote and raise awareness of the problem of parking on zig zag lines and inconsiderate parking on Faraday Road. The event went really well with the help of Councillor Val Clark, Sally Barrett (Bexley Road Safety) and our local police constable.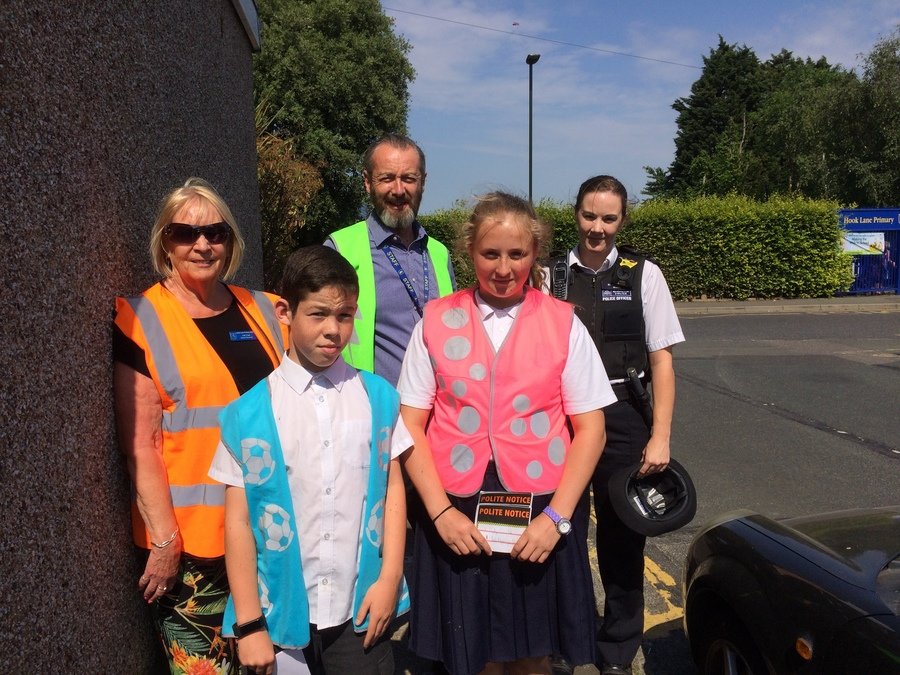 Junior Maths Challenge 2018
On the 26th April, 10 very brave year 6 pupils sat the Junior Maths Challenge paper. This challenge may be taken by children up to Year 8 and is often used by secondary schools. We are very proud of all of them for taking part and achieving 6 bronze certificates, 1 silver and 1 gold. One of our pupils, Andy, got a high enough score to go through to the Junior Mathematical Olympiad, which consisted of undertaking a two hour long paper on Tuesday 12th June. Although we haven't yet received the results of this challenge, we are very pleased that he was invited to take part and very proud of how hard he worked on the paper.
This is a link to the 2018 JMC: https://www.ukmt.org.uk/pdfs/archive/JMC2018_paper.pdf
and a link to the JMO: https://www.ukmt.org.uk/pdfs/jmo18Q.pdf
Karate Gradings
Of the 22 students we have in the karate class, 13 of them took their first grading on Tuesday 12th June and all double graded, i.e. they went straight to the their second belt (orange). That's the largest number of students we've ever double graded at the same time, and they did a fantastic job. Mr Ebdon and all the Hook Lane staff are very proud of them!
Choir get practising for their summer performance in Bexley
On Friday 25th May, our school choir had a lovely rehearsal with Bird College's Liz Bryant, who co-ordinates all of the school choirs in Bexley. We were preparing for our summer concert, which will take place at Christ Church, Bexley in July. The choir behaved beautifully as always and learnt 3 new songs! We now can't wait for the concert!
A very royal lunch
On Thursday 17th May, our caterers, Harrisons, laid on a special 'street party' style lunch for the children in celebration of the upcoming Royal Wedding. The children thoroughly enjoyed their dainty sandwiches, pizza slices and sausage rolls. The hall was decorated in patriotic colours and there was a very celebratory atmosphere.
A kind donation
We are very grateful to Ordnance Masonic Lodge for donating £500 to our school. We will be putting the donation towards purchasing ICT equipment. Here are photos of Freemasons Gary and Mark presenting the cheque to our Year 6 House Captains.
Year 4/5 Football Team win the Bexley Plate Competition
The Hook Lane Year4/5 team played in the Bexley Under 10s, tournament on the 12th May. We played against lots of other primary schools. Our team won and received the Plate Trophy. Well done team!!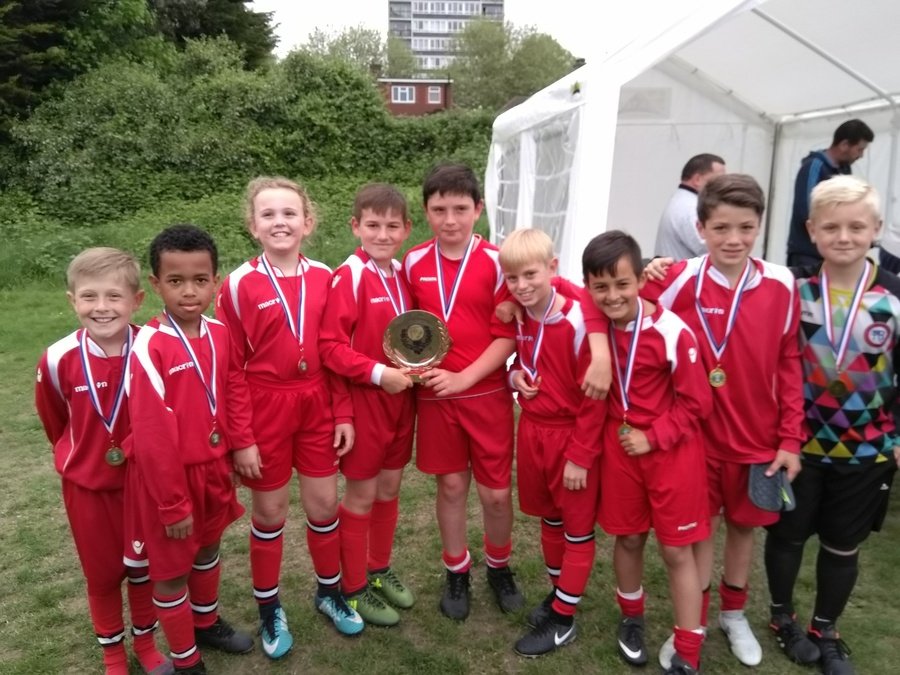 Fortitude win the most green journeys award
On 30th April our year 6 class Fortitude, were rewarded for opting for "greener" ways of getting to school in our walk on a Wednesday initiative. Fortitude were the class that demonstrated the highest number of "green journeys" of all the schools involved in Bexley, opting to walk rather than being driven to school. They received tickets for attractions in Kent and a special certificate. Buster the WOW mascot was on hand to award the prizes. This picture appeared in the News shopper. Well done Fortitude!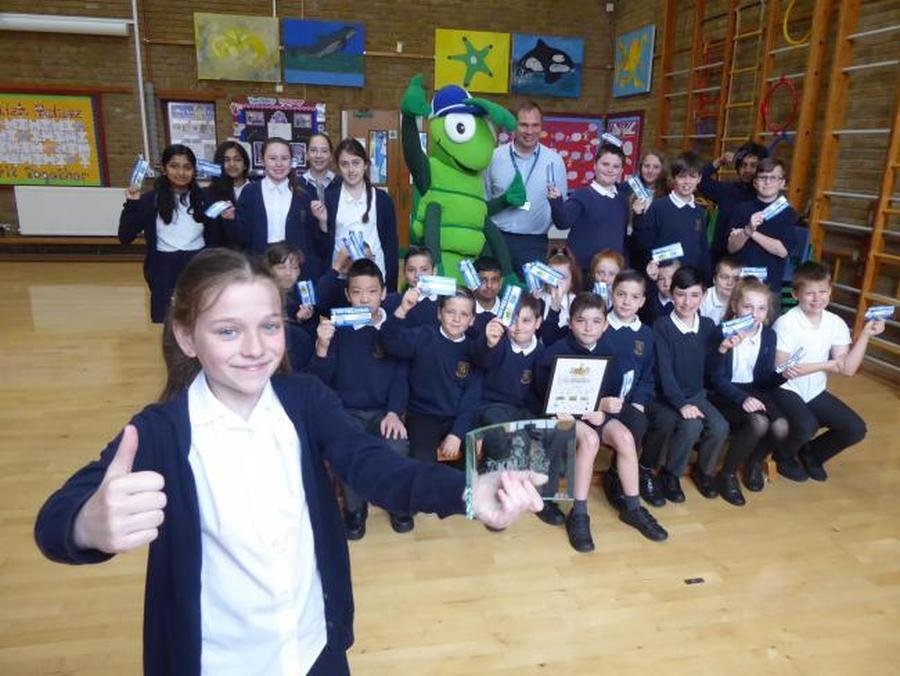 Spelling Bee
We are going to hold a whole school Spelling Bee on the last week of the term (week beginning 26th March).
The Spelling Bee will be based around the spellings that the children have been learning as part of their homework this term. We are planning on making the event a fun and exciting end of term achievement for all of the children.
The children will progress through a range of coloured stages. These include: yellow, blue, red, bronze, silver, gold and platinum. The spellings will be arranged in order of difficulty with yellow spellings being the easiest and platinum's being the very most difficult.
Royal Festival Hall 2018
Our Key Stage Two children represented the school at the Festival of Music in March, which was held at the Royal Festival Hall, and were marvellous! Myself and Mrs Sheekey were so proud of all of the orchestra, ukulele and choir children who performed beautifully after a long day of travelling and rehearsing - well done!!
Mrs Dawson
Kevin McCarthy Cup Final
Our year 6 football team reached the final of the Kevin McCarthy cup this year. This is the first year we have reached the finals of this competition. We beat many other teams and the team have thoroughly enjoyed the experience. The finals were played at Dulverton Primary School on 27th March.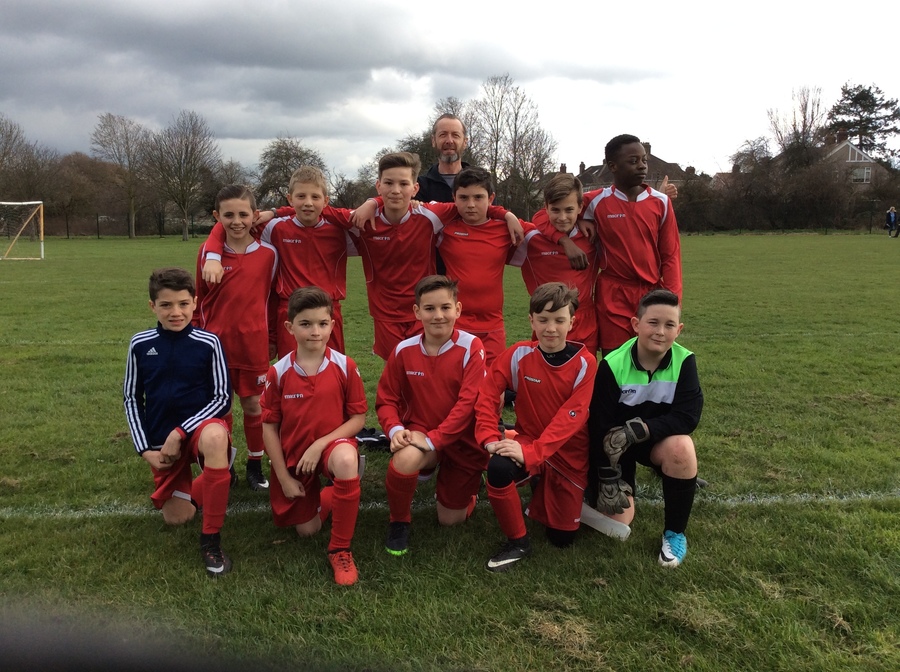 Skipping for Life workshops
On 19th and 20th February the school hosted skipping workshops hosted by Skippy John of Total Wipe out fame. The children had fun learning how to skip and how this can help to keep them active and improve fitness. We learnt skipping techniques such as:
1)SWITCHING FOOT JUMP
This is a basic jump rope technique. It requires alternate feet to leave the ground in a jogging/running fashion while timing your jumps. If you want to intensify your workout, then you can either speed up your pace or bring your knees up.
2) SIDE TO SIDE
Starting off in the Two Feet Basic Jump position, begin performing the same jump as normal. As you're jumping, using both feet, start jumping from side to side. You can start by doing short side jumps first then progress onto longer side jumps.
3) FRONT TO BACK
Starting off in the Two Feet Basic Jump position, begin performing the same jump as normal. You then jump forwards and backwards continuously and like the Side to Side jumps, start off short then progress onto longer jumps.
4) SINGLE FOOT HOPS
This technique requires you to hop over the jump rope with either foot continuously, then switch to your other foot. Performing 2 or 3 hops with one foot before switching over is generally common among boxers.
5) CRISS-CROSS HANDS
This is a more advanced technique which requires timing and co-ordination between your hands and feet. Before each jump, you have to bring your left hand to your right side and your right hand to your left side so that your arms are crossed. After you've made the first jump, then you resume your normal hands positioning ready for the next jump.
6) CRISS-CROSS FEET JUMPS
This technique is the same concept as the Criss-Cross Hands but using your feet instead. So before each jump, you must cross your legs and then resume your normal position for your next jump.
It massively helps to practice the Criss-Cross Feet Jumps without the ropes first because your footwork is the most important part for this.
Bexley Celebration of Pupil Achievement
Every year Bexley local authority celebrates those children who go the extra mile. Perhaps, they have made outstanding progress, or persevered in the face of adversity. Maybe they have mastered a skill such as gymnastics or music or have worked hard to raise money for a good cause. Each school is able to nominate up to three children to receive an award. This year 3 of our Year 6 pupils won awards for their achievements. Next year it could be you!
Here are some photos of the children receiving their certificates.
Poppy Appeal
Thank you to those who donated for this appeal. We are pleased to report we raised £188.18.
School Games Sports Hall Athletics Competition
On 7th November our year 5 and 6 children took part in an Athletics competition at Bexley Grammar school. The children competed in events such as relay, javelin, jumps and speed bounces. The children were competing against 4 other schools. We did really well and enjoyed the competition. Our school won the Spirit of the Games Award which was for good sportsmanship and giving 100%. Well done everyone!!
Today the children were very lucky as we had a visit from Lucy May, a singer who has recorded her own album 'Little by Little' and has also been played on Radio 2! She sang 4 songs from her album and finished by singing 'Rockin' around the Christmas tree', which the whole school enjoyed singing along to.
On Friday 1st December, Hook Lane's school choir sang to members of the public undertaking their Christmas shopping, in Gravesend Town Centre. The 51-strong choir sang beautifully, despite the cold weather! Well done!
Pupil Questionnaires
We recently conducted pupil questionnaires throughout the whole school. We wanted to share some of the responses children gave to "What I like most about my school..."
Y1 - 'playing', 'sharing', 'going outside', 'I like my teachers'
Y2 - 'I like Science', 'I like Phonics', 'I like Maths/Literacy/PE/ICT', 'I like learning', 'we have good teachers'
Y3 - 'I like that people play with me and teachers help me', 'school trips', 'I like Maths because you get to work problems out'
Y4 - 'We have good teachers', 'I like to do work and everyone is friendly at this school', 'I like that the teachers are fair and the children are too', 'it is colourful and the children are kind', 'I like how teachers make art really creative'
Y5 - 'I like my friends and I have an amazing teacher', 'The thing I like most about my school is we're all kind and helpful', 'that this is the most brightly coloured school I have ever seen', 'If I'm upset, there are always people there to help fix my problems', 'I like that the teachers are really nice and I would go straight to them if I had a problem'
Y6 - 'All of us are friends and we all get along', 'I like the teachers in the school and all the people because they are all so nice and helpful to me and other people if we get stuck. Also the school council is really helpful', 'Hook Lane is brilliant and I love this school. All of the trips are fabulous and PGL is so amazing I would love to go back', 'There is always an adult I can talk to, to help solve my problems'.
Kevin McCarthy Cup 10/10/17
Our year 5/6 football team is taking part in the Kevin McCarthy cup this year. We have got through to the third round of this having won all our matches so far this season
Bexley Girls football tournament 03/10/17
Our girl's football team played really well in the girl's football tournament. We played against Danson Primary and Our Lady. We won one match and lost one match. The girls have been training at lunch times to improve their skills. As a result we came second. Well done girls!!!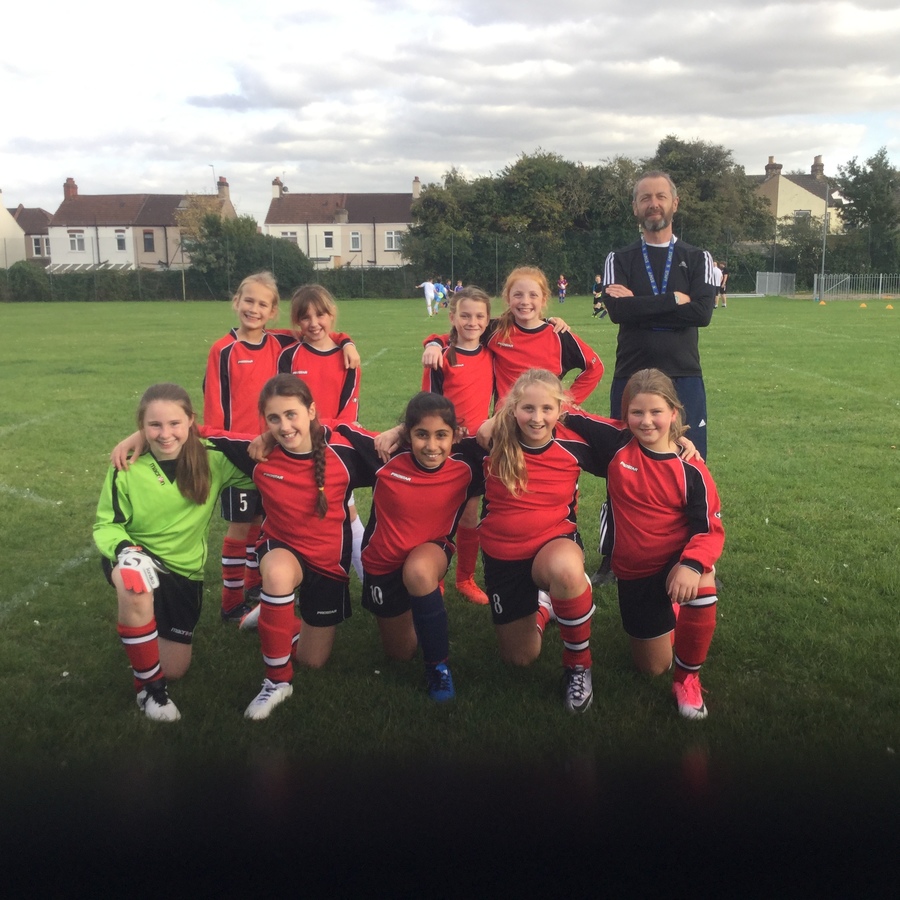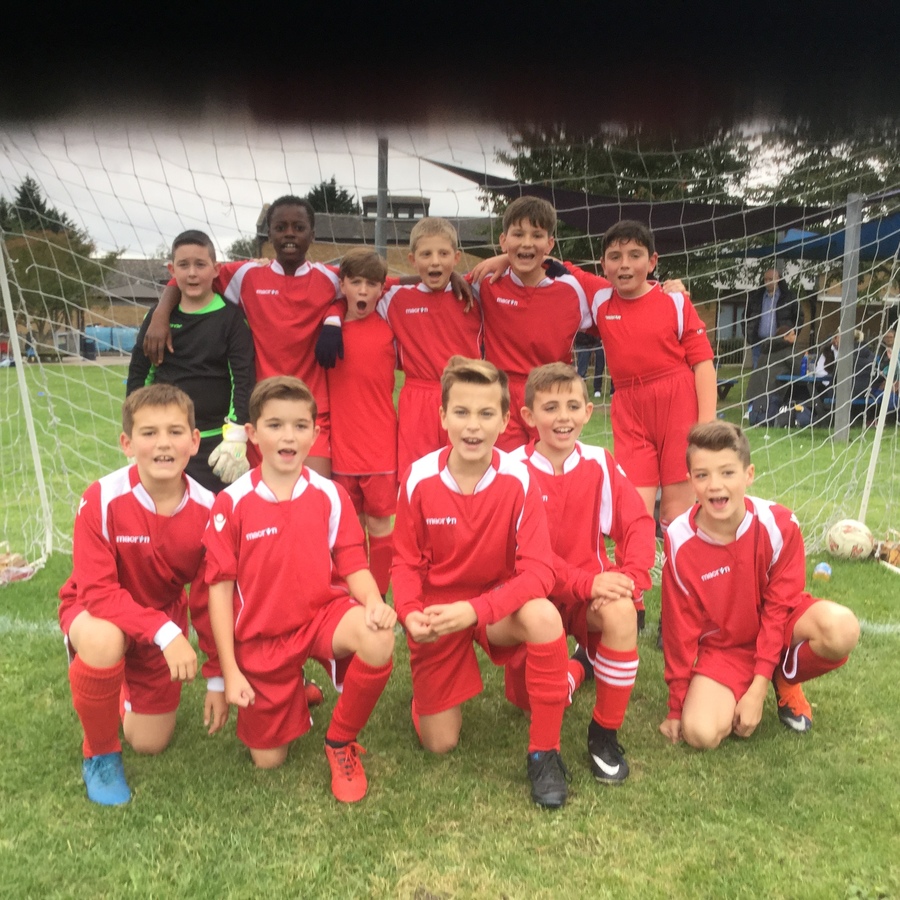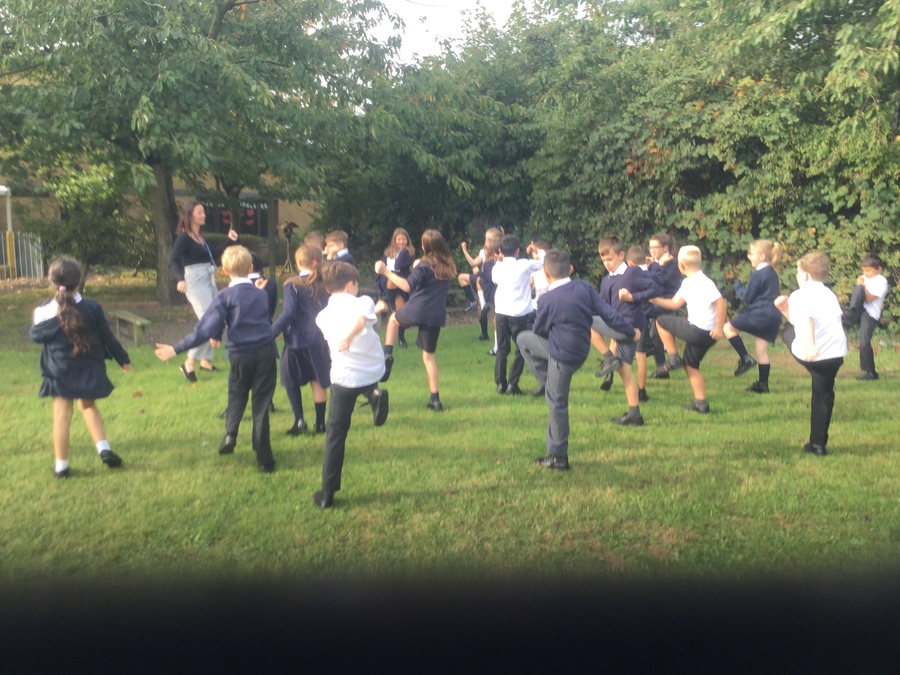 National Fitness Day 27/09/17
Our school took part in National Fitness Day on 27/09/17.
On this day thousands of schools around the country did 10 minutes of exercise at 10 o clock. In our school we did a variety of activities including dancing, jogging, stretching and ball skills. The children really enjoyed their activities and learned about the importance of being active.
Road Safety
The Council's Road Safety Team has asked us to remind parents, as well as children, how to use our lollipop person safely. Please wait on the pavement, holding younger children's hands, and listen for the patrol to say it is safe before stepping off the kerb. Anyone on a bike or scooter should dismount them and everyone should walk in front of the patrol so they can see them clearly. Please do not walk out into the road at the same time as the patrol. They need to ensure traffic in both directions has stopped for them before they indicate to you that it is safe for you and the children to cross.
Sainsbury's tokens 2017
Thank you to everyone who donated Sainsbury's tokens to the school. We received over 26000 in total this year. We will be using these to buy playtime equipment for our children. One of the items we have ordered is a table tennis table which the children will really enjoy using!
Friday 20th January
Mrs Dawson took her wonderful choir of 34, alongside Mrs Sheekey, Mrs Jackson and Mrs Behic to the O2 to perform in our second Young Voices concert. The children were absolute stars as they sat patiently through a 3 hour rehearsal and then sang beautifully throughout the evening performance. We all sang and danced our hearts out to 11 songs and loved watching the professional beat boxers and dancers on the day! Well done O2 choir- you were amazing!
(Photos and videos below).
Monday 12th December saw our Hook Lane teachers surprise the school when they took to the stage in our termly Rocksteady concert. Mrs Dawson, Mr Connor, Mrs Hill, Miss Garratty, Miss Driscoll and Mrs Sandford had all secretly been learning to play an instrument with Steve and performed the songs 'Sweet Home Alabama' and 'We Will Rock You'. It was great fun to perform to the school and we thoroughly hope the children enjoyed it!
24/6/16 - Royal Festival Hall
Today Mrs Dawson took the school choir and orchestra members to the Royal Festival Hall for the annual 'Festival of Music' performance. The choir sang alongside 700 primary and secondary school children and songs included The Circle of Life, Sky Full of Stars, Hey Brother and Africa. They also learnt sign language for the song Can You Hear Me? The children were so well behaved and sang beautifully! It was a long day of rehearsing before the performance but they gave 100 percent throughout the day and should be very proud of themselves!
15/6/16 - Bexley Cricket Tournament
Congratulations to our cricket team who came 4th out of the 16 teams who took part. It was an exciting tournament and a very closely fought final. Thank-you to Miss Driscoll and Mr Connor. Well done Hook Lane!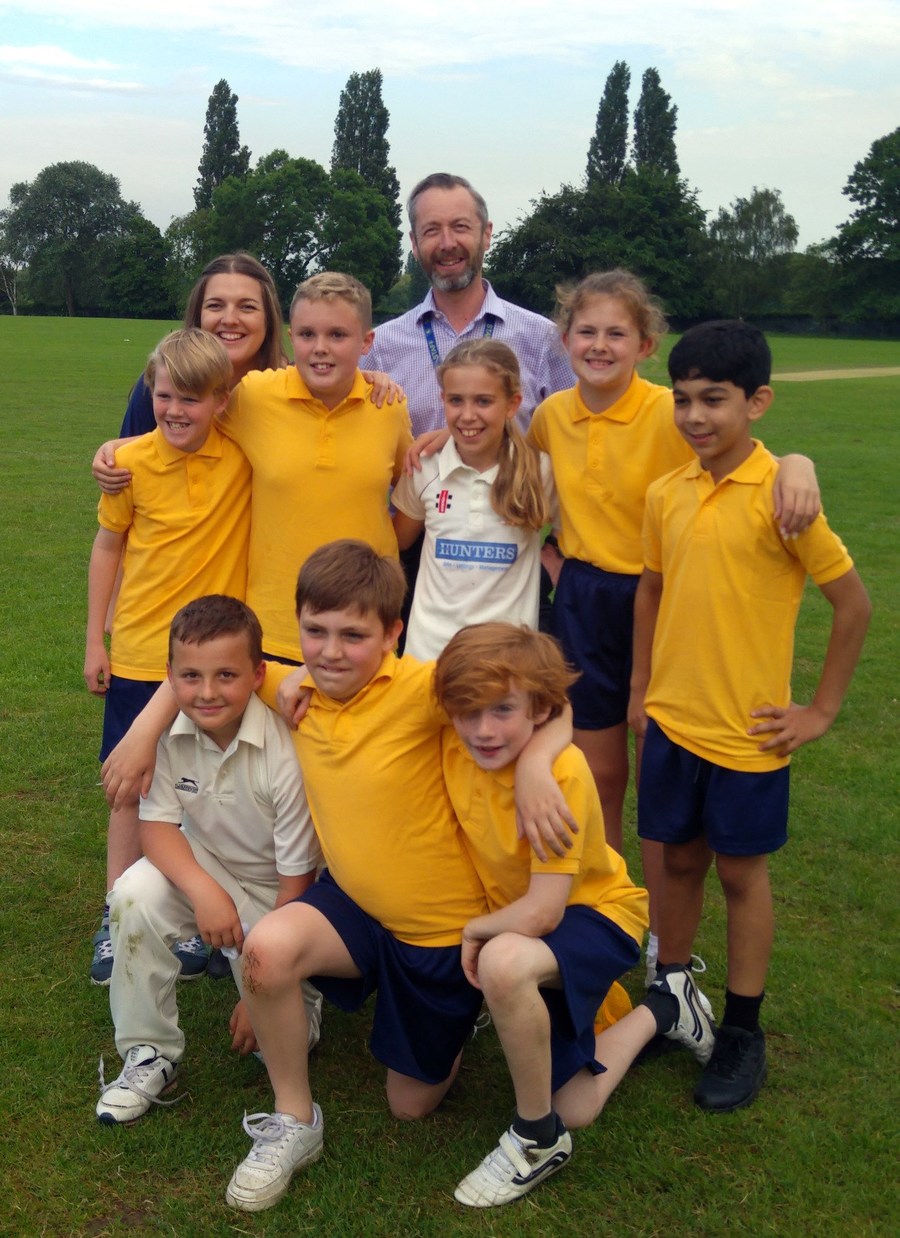 26/5/16 - Congratulations!
Today we met to celebrate all the good work and the sustained efforts of the children over the last half term.
We in particular want to congratulate Miss Bridle on her up-coming wedding, she will come back after half term as Mrs Dawson. We wish her all the best.
We also want to congratulate Mr and Mrs Cheeseman and Mrs Godden who are leaving us to have their babies. Our best wishes go with you!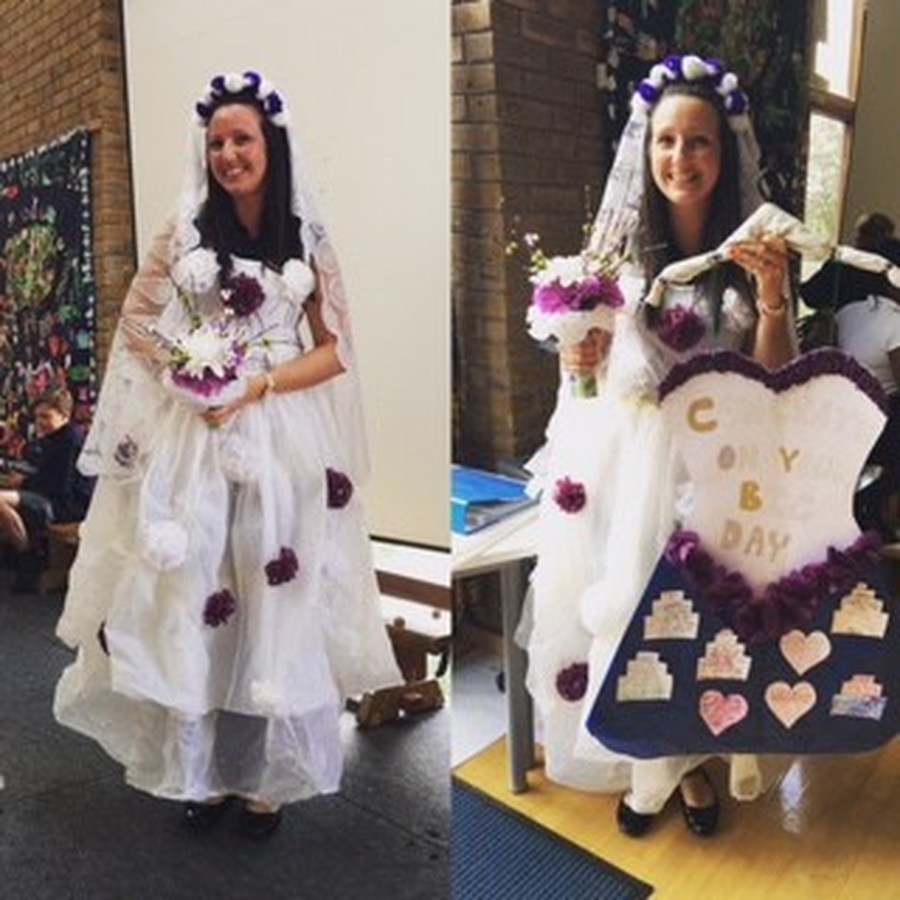 10/6/16 - Sports Day
Well done to all the children of Hook Lane who took part in their sports day today. We saw some great skills, determination and resilience throughout the day. Congratulations to Maxwell who were our overall winners!
A big thank-you to Miss Driscoll, Mrs Sandford and Mrs Cakir for organising the events and of course to our PTA who provided refreshments for the children and spectators.
29/4/16 - Wear a Hat Day
Today we held our "Wear a Hat Day" which had been postponed earlier in the year. The children donated a pound in return for wearing a hat in order to raise money for brain tumor research. We raised £287.40 at this event, thank-you to all who donated.
28/4/16 - Much Ado About Nothing
Key Stage 2 were very lucky to have the opportunity to see Bexley Grammar School's adapted version of Shakespeare's "Much Ado About Nothing". Photo's from this event can be seen in The Gallery.
28/4/16 - Junior Maths Challenge
Good luck to all our Year 6 children who took part in the Junior Maths Challenge today. We will keep you updated with the results.
25/4/16 - RNLI
This week we are collecting money in support of the RNLI Mayday Appeal. The Lifeboat Association is made up of volunteers and is responsible for saving many, many lives each year. A representative came into assembly this morning to speak to the children in detail about the work that they do. We will keep you updated as to how much money was raised throughout the week.
21/4/16 - Rocket Seeds
As part of a national experiment linked with Tim Peake and the International Space Station we have been planting seeds today, some of which have spent time in space!
The children had to be incredibly careful to make sure the experiment is accurate and fair and we are now very excitedly waiting to see if time in space has had any impact on the way in which the seeds germinate and grow over the next few weeks!
18/3/16 - 22/3/16 - PGL
Year 5 have enjoyed a fabulous week at PGL taking part in a range of activities from orienteering to zip-wiring (pictures can be seen in The Gallery). For many it was their first experience of staying away from their families. We were very happy with the children's excellent behaviour and team-work during the week, they were great ambassadors for the school and a good time was had by all! Well done Year5 and thank-you to Mr Connor, Mrs Sheekey, Miss Driscoll and Miss Wrate for taking such good care of them throughout the week!
Those children who were unable to make the PGL trip have enjoyed an extra-curricular week with Mrs French based on the film "The Jungle Book". They have produced a spectacular sculpture which is on display in the school library.
8/3/16 - Orchestra Assembly
Orchestra performed to the whole school in assembly today. Our Orchestra is ever growing and all musicians are welcome from Y3 upwards. If you play an instrument, either in or out of school, and are interested in joining the orchestra please see Mrs Kane or Miss Bridle for more information.
Visits to Tesco's
Throughout the Spring Term all our classes have had the opportunity to make an educational trip to Tesco's. They have been able to gain a taster of what goes on behind the scenes and activities have complimented the Maths, Science and PSHE curriculum.
29/2/16-4/3/16 - Book Week
Thank-you to Mrs Sheekey who has once again organised an exciting celebration of reading this week. Classes are designing their own book corners to reflect a place where they would really enjoy peacefully reading a book. Each class is basing their literacy work throughout the week on a piece of classic fiction; you will be able to see the results of this work on the classroom doors and in the corridor writing displays. We are also writing two "School Stories", a piece of shared writing in which every class from Reception to Year 6 is making a contribution, these will be available to see at a later date in the school library.
29/1/16 Young Voices Concert
Miss Bridle would like to say a huge 'well done' to her Young Voices choir who performed at the O2 Arena this evening! The choir sang amongst 7000 other children in the Young Voices 20th anniversary concert and sounded amazing! They performed all 11 songs and dances perfectly and behaved impeccably- well done to all who took part.
16/12/15 Carol Concert
We made our annual whole school visit to St John's Church for the Christmas Carol Concert. The children all sang beautifully and particular thanks need to go to Mr Brown and his Orchestra, Miss Bridle and the choir and the Year 5 readers.
1/12/15 Dress the Tree
Our Christmas tree has arrived and the children have all been very busy creating their decorations which were hung today by Mr Connor and Mrs Kane. The tree looks beautiful for the festive season and every child in the school can be proud of their contribution!
30/11/15 Dogs Trust Visit
The Dog's Trust have been visiting school today (dog's included!) to give the children some valuable information on how to care for dogs and also keeping safe around dogs. They came into assembly this morning and have been running workshops around the school.
30/11/15 Bexley food bank donations

Ms Kelly would like to say a massive thank you to all of the parents, children and staff who have donated items over the last two weeks to her food bank collection. She has been inundated by generous donations which will help many families this Christmas. These will be delivered to Bexley Food bank this week.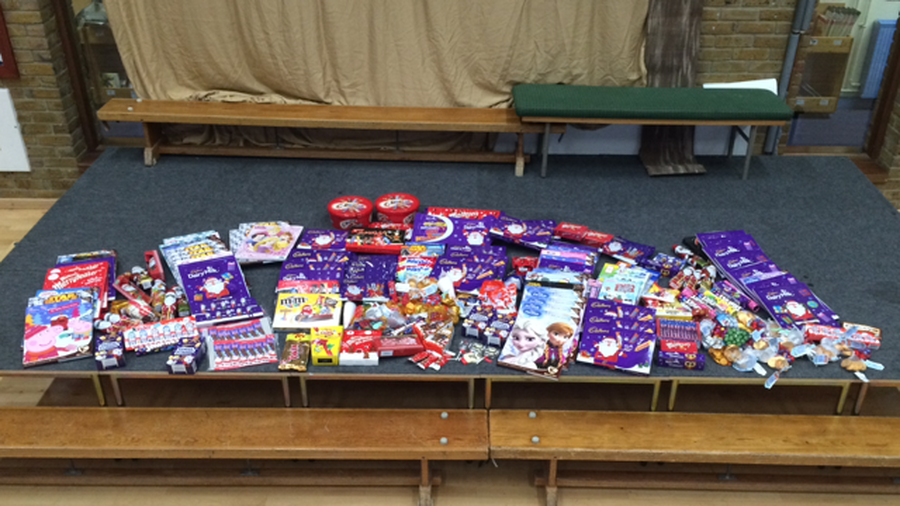 16/11/15 Young Voices
David Lawrence from the Young Voices team cam in for a singing workshop with the choir. They learnt new warm-up techniques and sang through some of the songs that they will be performing at the O2 in January. We also welcomed Bishop Ridley School to sing with us. The children thoroughly enjoyed their morning and David was very pleased with their hard work.
13/11/15 Children in Need
School council wanted to raise the profile of Children in Need this year. As well as the Superhero dress up day they organised a very successful cake sale for our children, parents and staff. Thank-you very much to everyone who donated cakes. We are very pleased to announce the grand total raised was £736. Well done School Council!
16/10/15 Girls Football Team
Our Year 5/6 girls football team played their first match at Brampton School against the Brampton and Barnehurst Girls teams. Our team consisted of: Brooke, Isabella, Rheanne, Lillie, Hallie, Megan, Lucy, Chloe B, Millie MG and Alyssa. This was the first time the girls played together against other well established teams. Brampton won the first match 3-0 and the match against Barnehurst finished on a very close 1-0 to Barnehurst. The girls played very well and developed their defensive skills over the 2 games. We look forward to some further friendly matches next half term. Well done girls!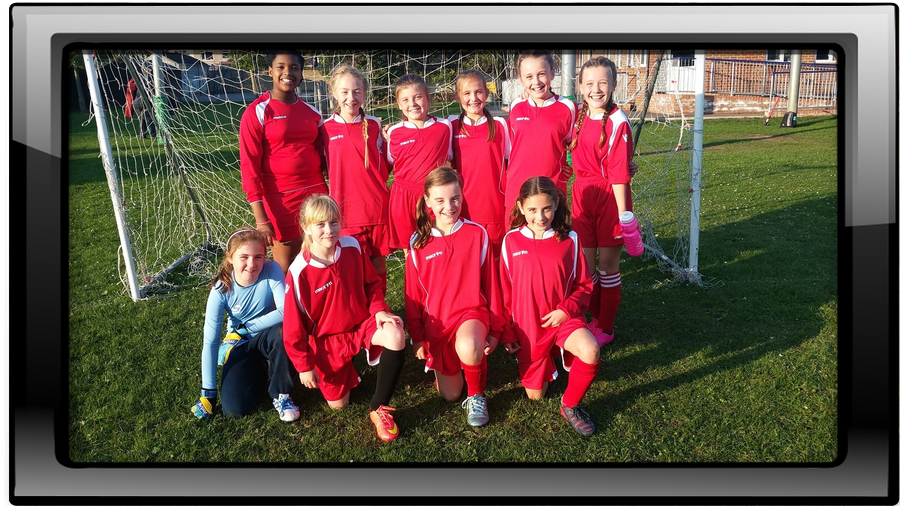 11+ Results
Congratulations to the 17% of our children who passed the 11+ this year, we are very proud of your well-deserved achievement!
The 11+ is a selective test designed to ensure that children go to the secondary school which is best suited to them. We know that our children will be successful whatever their secondary school choices.
13/10/15 Harvest Festival and Sale
A big thank-you to Year 4 who led this years Harvest Festival. This year we were joined by Rev. Broadie from St John's church who invited the children to join him in prayer if they wished to.
Thank-you all for your generosity in donating food for the sale at the end of the day. this year we were raising money for Guide Dogs for the Blind and raised a total of £90. We will continue to support Guide Dogs for the Blind at our Christmas events this year.
30/9/15 "I Believe in Unicorns"
Key Stage 2 paid a visit to the Orchard Theatre today to see their one-woman production of "I Believe in Unicorns" a story that all the children have been studying in class over the last half term. The performance was thought-provoking and mesmerising and the children had the opportunity of a question and answer session with the actress at the end of the show followed by a book swap.
The children thoroughly enjoyed the event and we were very proud of their thoughtful questions at the theatre and their excellent behaviour both at the theatre and when using public transport.
29/9/15 Bexley Choir and Orchestra Concert - Royal Festival Hall
Our choir, orchestra and Ukelele ensemble attended the re-scheduled Summer Concert at the Royal Festival Hall today. They had a fantastic day and were at last able to perform the pieces that they had learnt before the summer. Sadly, some of our ex-pupils were unable to return for the event however we were very pleased that Holly, Jessica and Harvey were able to join us on the day.
Miss Bridle and Mrs Sheekey were very pleased with the children's excellent behaviour on such a long and exciting day.
25/9/15 Junior Road Safety Officer
Mr Connor and our Junior Road Safety Officers (Avani Vedash, Louis Pamphlett, Megan Turner, James Street) attended a Road Safety Event run by Bexley Council at the Civic Offices today. The JRSO's have been very active over the last year running poster campaigns, speaking in assembly and meeting with council officials, we look forward to seeing what initiatives they introduce over the year. Thank-you for helping to keep our area safe!
25/9/15 Macmillan Cancer Support Cake Sale
Thank-you for your kind generosity in providing cakes for the Macmillan Cancer Support Charity. Mrs Reed and Mrs Davies supported Year 6 who worked very hard at selling the cakes to the younger children raising a grand total of £165.40. Well done everyone!
16/9/15 Walk Once a Week Launch
To mark the launch of our "Walk Once a Week" initiative we had a visit from Stryder, the initiative's mascot. Children will receive a badge at the end of the month if they have managed to walk to school at least once a week. Walking to school has both environmental and health benefits, it also helps to reduce the number of cars outside the gates, making our school a safer place.
A big thank-you to Councillor Clark who has donated 2 awards to the school which will be given out to the class which have had the most walkers each week and at the end of every month.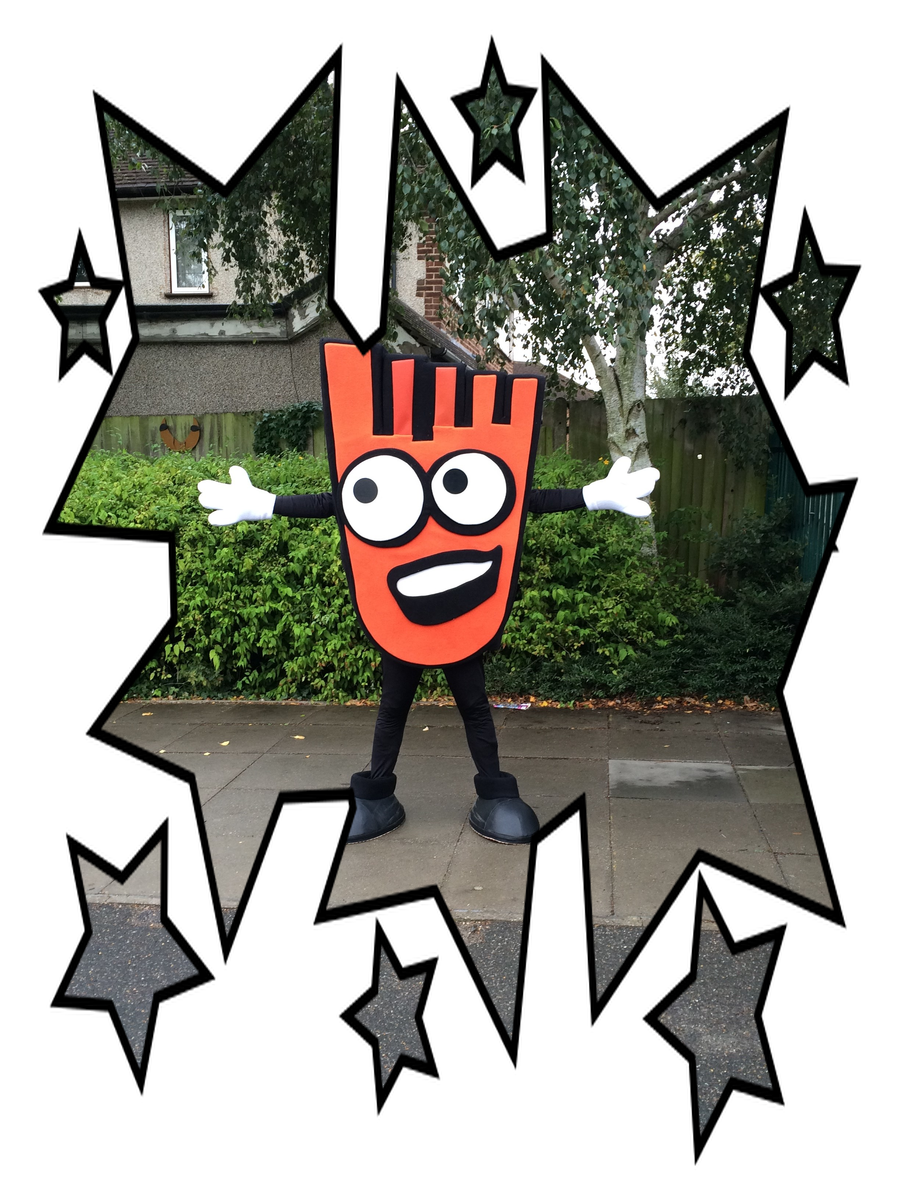 Trip to Mars!
Hook Lane Primary School has been awarded it's own very special mention on NASA's InSight probe which will be launching in March 2016 before voyaging to Mars. More information on this special adventure can be found on the School Council noticeboard or the NASA website.
The London Children's Flower Society
We are very proud to have received a Gold Medal Award from the London Children's Flower Society for the cultivation of our school garden. We also received a 2nd Class Diploma for our summer flowers, herbs and vegetables. Congratulations again to Mrs Breen and all our children.
Leavers Assembly, Performance and Disco
The final week of term was a very busy one for our Year 6 school leavers and their teachers!
On Tuesday and Wednesday evenings the children performed "Robin and the Sherwood Hoodies" to their parents. Both performances were superb and we commend the children, along with Miss Garratty and Mrs Sheekey, on the quality of their acting, speaking, singing, choreography and set design!
On Thursday evening the children enjoyed their leavers disco, hosted by the PTA. It was lovely to see the children all dressed up and whilst there were a few tears they had a great evening together. Thank-you to the PTA for all your help in organising this event and for the pens and autograph books that all the leavers received.
After much shirt signing and photo-taking, the week ended with our traditional Leavers Assembly. We are very proud of our Year 6 leavers and wish them all the best as they journey into the next stage of their education.
Wedding Celebrations
Our congratulations and best wishes go to Miss Garratty and Miss Breen who are getting married during the holidays. Miss Garratty will come back from the holiday as Mrs Colley and Miss Breen will return as Mrs Sandford. The children enjoyed their opportunity to wish them all the best during our special celebration assembly at the end of the year.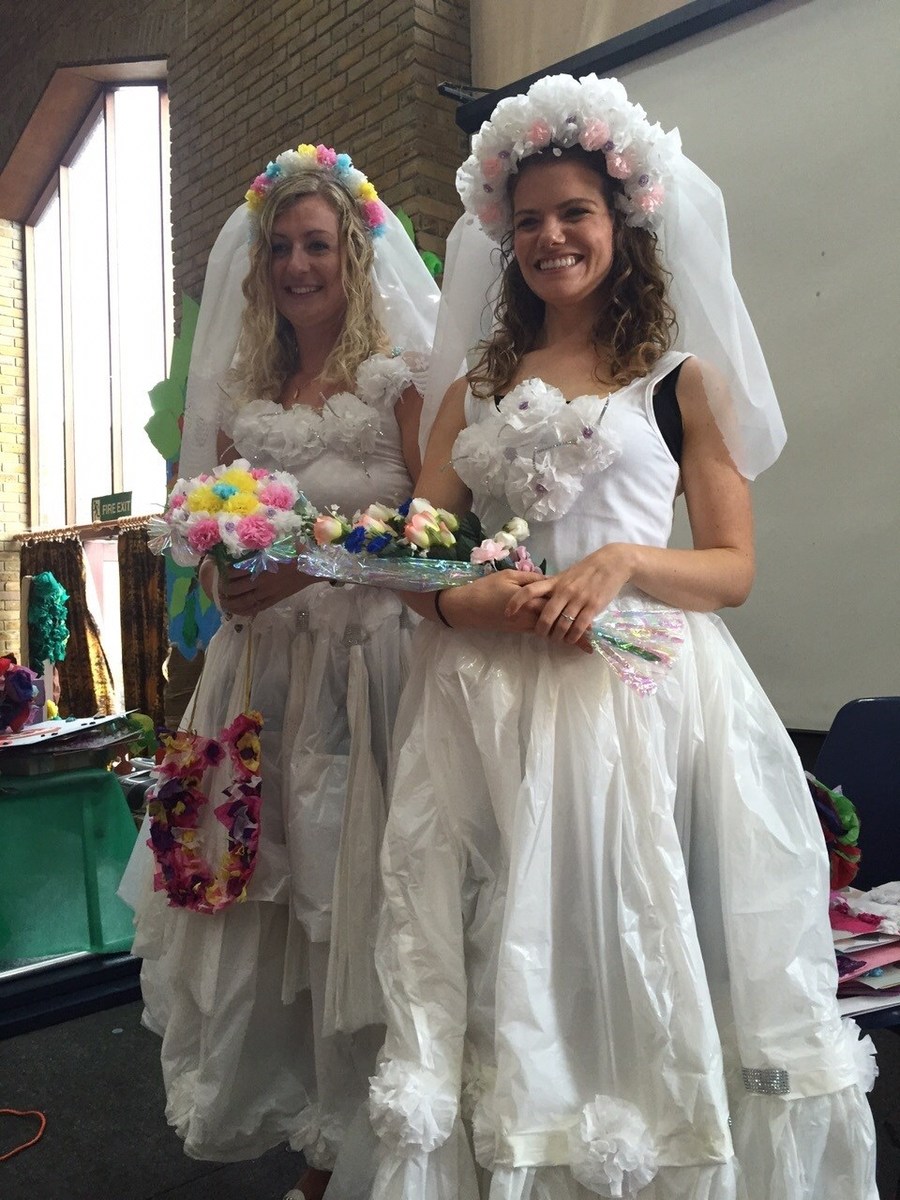 London in Bloom 2015
We are very pleased to have received a Silver Award this year for our school gardens. Congratulations once again to Mrs Breen who has been working very hard in the garden and who has supported children across the school to join in and learn new skills.
9/7/15 - Choir Performance
We are very proud of our choir who performed some of their Summer Concert songs to the children and parents at the end of the day. They have all worked very hard, along with Miss Bridle and Mrs Sheekey, and sounded beautiful.
UK Junior Maths Challenge 2015
Congratulations to our maths champions in year 6! Ten children represented the school in completing the UK Junior Maths Challenge 2015. This is a nationwide competition designed to challenge the most able mathematicians in years 7 and 8. We are delighted to report that one of our pupils achieved a bronze award, five achieved silver awards and one achieved a gold - the first for Hook Lane!
30/6/15 - London Children's Flower Society
The London Children's Flower Society made their annual visit to judge our school gardens. Congratulations to Mr Connor's class (3A), who won a Silver Award for their Nasturtiums and Sunflowers and to Mrs Allan's class (3B) who also won a Silver Award for their Beetroots.
Mrs Breen has taken over the upkeep of the school gardens this year and has been working alongside class teachers to involve children of all ages. We are very pleased that her efforts have been rewarded with a Gold Award this year. Well done!
29/6/15 - Bexley Primary Schools Summer Concert
Our choir, orchestra and Year 4 ukulele ensemble attended the Bexley Primary Schools Summer Concert, organised by Bird College. The children and teachers were all very excited to take part as this was the culmination of a huge amount of work throughout the term.
Unfortunately the event was unavoidably called off after the morning's rehearsals. The children can be very proud of themselves, however, the commitment that they gave in the run up to the event was superb and they had an opportunity to perform alongside other Bexley primary schools on the stage at the Royal Festival Hall in the rehearsals. The teachers and assistants who accompanied the children praised their enthusiasm and behaviour, particularly in the face of their disappointment.
Bird College are currently trying to re-schedule the event - watch this space! In the meantime, you will have an opportunity to hear the choir perform on Thursday 9th July as they sing to parents and children from the Qube balcony at the end of the school day.
22/6/15 - 26/6/15 - Book Fair
Thank-you to everyone who supported the book fair this year. We raised a grand total of £860.70 which will be spent on replenishing the classroom libraries.
17/6/15 - Bexley Cricket Tournament
Well done to our cricket team who came third in the Bexley Cricket Tournament, beating some "old foes" along the way. We are very proud of our boys and girls who won a special award for their excellent teamwork.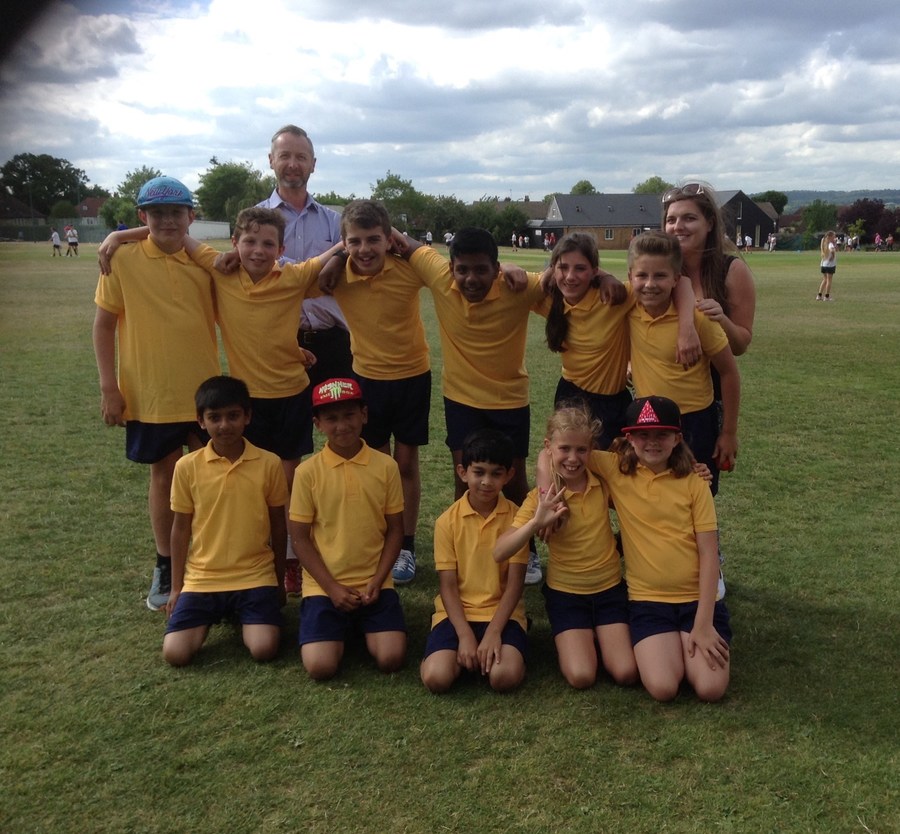 16/6/15 - Orchestra Assembly
Thank-you very much to Mr Brown and the Orchestra for performing to our children in assembly this morning. The Orchestra played beautifully and Mr Brown entertained as always with his fun and informative introductions. It was great preparation for the Orchestra who will be performing at the Royal Festival Hall in a couple of weeks and so lovely to see our very talented musicians at work.
Letters will soon be coming home about lessons in 2015/16 for anyone who has been inspired to take up an instrument!
12/6/15 - Sports Day
The sun eventually came out for our Key-stage 2 sports day. We saw some fast racing and some excellent displays of sportsmanship, perseverance and resilience. It was great to see so many parents take part in the parents races and even the teachers had a go this year!
Congratulations to Maxwell who won overall with a score of 165 points. The rest of the field were very close: Darwin - 156 points, Newton - 151 points and Faraday - 145.
Key-stage 1 sports day took place in the afternoon. Once again it was great to see so many parents and grandparents spectating. The children had a great time completing their carousel of activities and there was some strong competition in some fast-paced final races.
Thank-you to the PTA who helped out at both events, providing refreshments for the children.
11/6/15 - Swimming Gala
Congratulations to our Year 6 swimmers who won the Bexley Schools Swimming Gala for the second year in a row. Great swimming and fantastic sportsmanship from all involved. Our Year 6 competitors and spectators were praised for their excellent behaviour on poolside.
10/6/15 - EYFS Sports Day
Well done to all our Nursery and Reception children who took part in our Sports Day. A great time was had by all as the children ran, hopped, skipped, jumped, threw and slid around the course of events. A big thank-you to all the parents and grandparents who managed to come and watch their children taking part.
8/6/15-10/6/15 - Year 4 "Arty Party"
Arty Party spent 3 days with Year 4 to design and create a fearsome Viking warrior out of papier mache. Lots of fun was had by all involved. The children in Year 4 are very proud of their creation, based around one of their previous history themes, which can be found in the school's entrance hall.